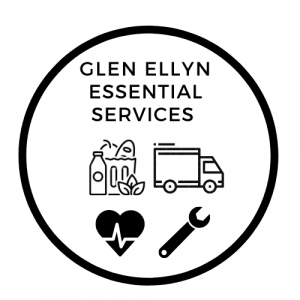 *This page was last updated on Thursday, May 28. Contact the businesses directly for updated information.
Essential Business are critical to our community.  Please note the Essential Businesses description described by the Executive Order and the Glen Ellyn business below.  Please contact these companies via phone or email as many of these companies are working remotely.  If you do not see your business on the list and would like to be included, please contact the Glen Ellyn Chamber of Commerce.
Essential Businesses are Healthcare, Human Services, Governmental, and Infrastructure businesses, as well as, the following:
Stores that sell groceries and medicine.
Food, beverage, and cannabis production and agriculture.
Organizations that provide charitable and social services.
Media.
Gas stations and businesses needed for transportation: auto supply/repair, and bicycle shops.
Financial institutions.
Hardware and supply stores.
Critical trades: plumbers, electricians, exterminators, commercial cleaning, security staff, HVAC, painting, moving services, and others who provide necessary safety.
Mail, post, shipping, logistics, delivery, and pick-up services.
Educational institutions.
Laundry services.
Restaurants for consumption off-premises.
Supplies to work from home.
Supplies for Essential Businesses including IT and telecommunication equipment and service.
Transportation: Airlines, taxis, transportation network providers (such as Uber and Lyft), vehicle rental services.
Home-based care and services for adults, seniors, children, and/or people with disabilities.
Residential facilities for adults, seniors, children, and/or people with disabilities.
Professional services: legal, accounting, insurance, real estate including appraisal and title services.
Day care centers for employees exempted by this Executive Order.
Manufacture & distribution for critical products and industries.
Critical labor functions including the administration of health and welfare funds.
Hotels and motels
Funeral services.
65 S. Park Blvd.
Glen Ellyn, IL 60137
Non-Emergency Number (630) 469-1187
524 Pennsylvania Ave. Glen Ellyn
Non-Emergency Number (630) 469-5265