Published: March 2, 2022
The 58th Annual Glen Ellyn Community Awards is a time to honor our hard-working public servants, our dedicated educators, store fronts that go the extra mile and all the amazing residents, both young and young at heart, who volunteer their time and talents to make Glen Ellyn a wonderful place to live, learn, work, dine, shop and play. It is through their efforts that Glen Ellyn continues to generate the quality of life we have come to enjoy in our community.
Photos provided by Randall Bullen Photography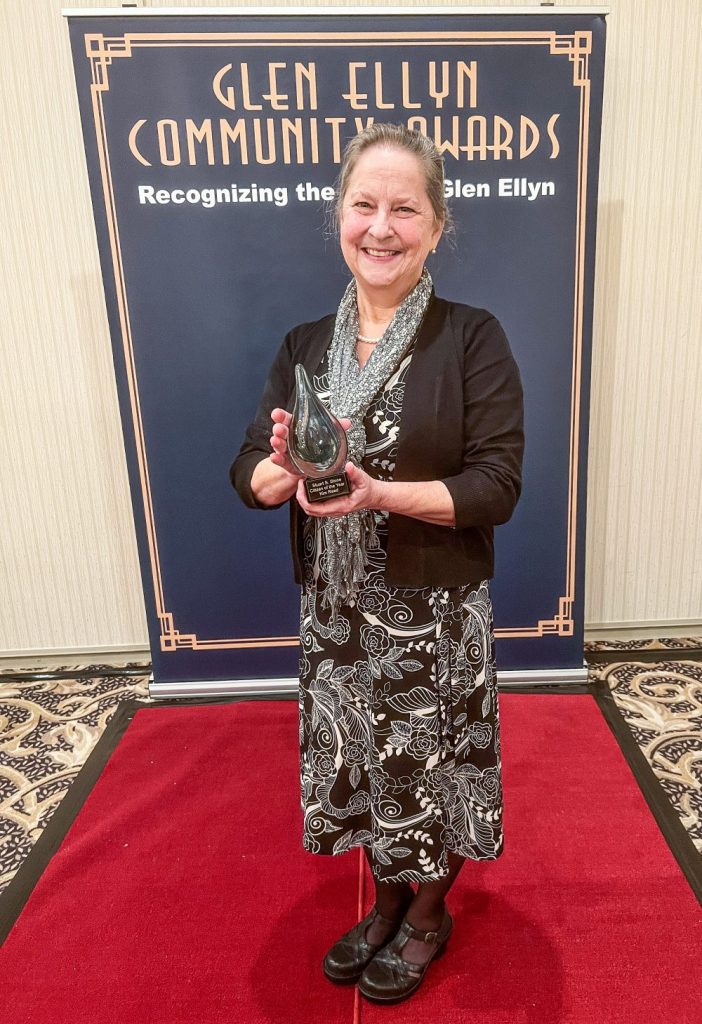 Kim Reed, Citizen of the Year
Stuart S. Stone Citizen of the Year
Kim Reed
The Citizen of the Year Award was first presented in the early 1960's, its purpose was to spotlight the individual who had made significant contributions to and for the Village and its residents that would be long-lasting. And that has certainly been true of the 51 recipients that have received the recognition through the years. The common thread that connects ALL of these 51 recipients of the "Citizen of the Year" Award and ensures their legacy to Glen Ellyn is their love, dedication and commitment to make the Village even better…not just for now but for the future.
Kim exemplifies everything about Glen Ellyn in how she approaches people, problem-solving and actions to advocate for those in need. Kim has devoted countless hours toward the betterment of Glen Ellyn and the lives of its citizens. Among her many civic causes League of Women Voters, St. Mark's, Glen Ellyn Youth and Family Counseling Services, and Hispanic ministry. Kim has been a valued board member, holding leadership positions for many years with Glen Ellyn Youth and Family Counseling Service. Additionally, she has both worked and advocated for St. Mark's church congregation, the latino/a community, high risk populations and those with financial limitations. Kim is also a sought out One Community member and is frequent at Village board meetings, using her voice and knowledge to share with others the importance of showing up for those who may not have a voice. Kim is always there to listen, brainstorm and collaborate with community members and most importantly she comes from a place of compassion and empathy in everything she does. She is a joy to work for, work with and discuss important community crises/matters. Kim has also worked to promote Glenbard's Parent Series which aims to heighten awareness around mental health and education for parents and students facing today's challenges. Knowing Kim Reed is inspirational and her example of selfless commitment to Glen Ellyn makes others better.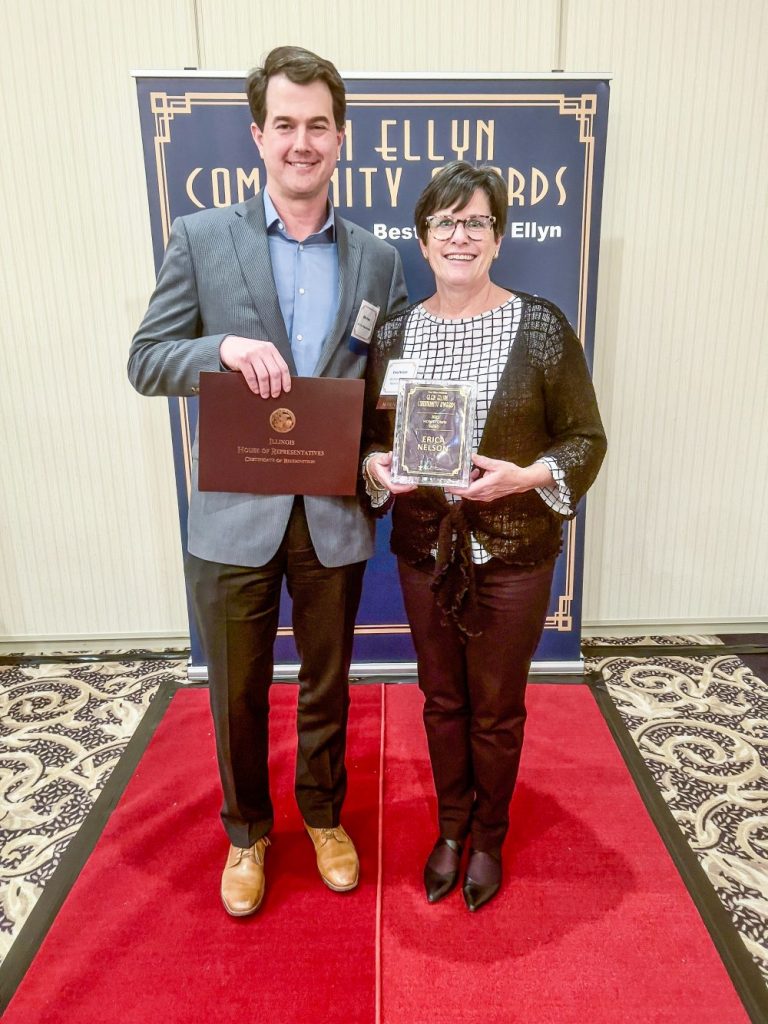 Mark Franz, Village of Glen Ellyn Manager Erica Nelson, Hometown Hero
Hometown Hero
Erica Nelson
Erica Nelson is one of the founding members of One Community's and one of their board members. She is also involved with League of Women Voters of Glen Ellyn, District 41 board member, PEP Education Foundation, and Glen Ellyn Children's Resource Center and Rotary. She is also an advocate for federal legislation through the National PTA and Advocates for 708 Mental Health Boards in DuPage County Townships (achieved success in Milton Township). Erica dedicates her time locally to promote resources for mental health support, services and programs for community members with developmental disabilities and those with substance use disorders.
Also, Erica is a faculty member with the Center for Leadership at the Lake Forest Graduate School of Management and serves as a coach for mid to senior level leaders. She worked in higher education for 15 years before transitioning to adult learning and development. Erica is a faculty member with the Center for Leadership at the Lake Forest Graduate School of Management and serves as a coach for mid to senior level leaders. She worked in higher education for 15 years before transitioning to adult learning and development.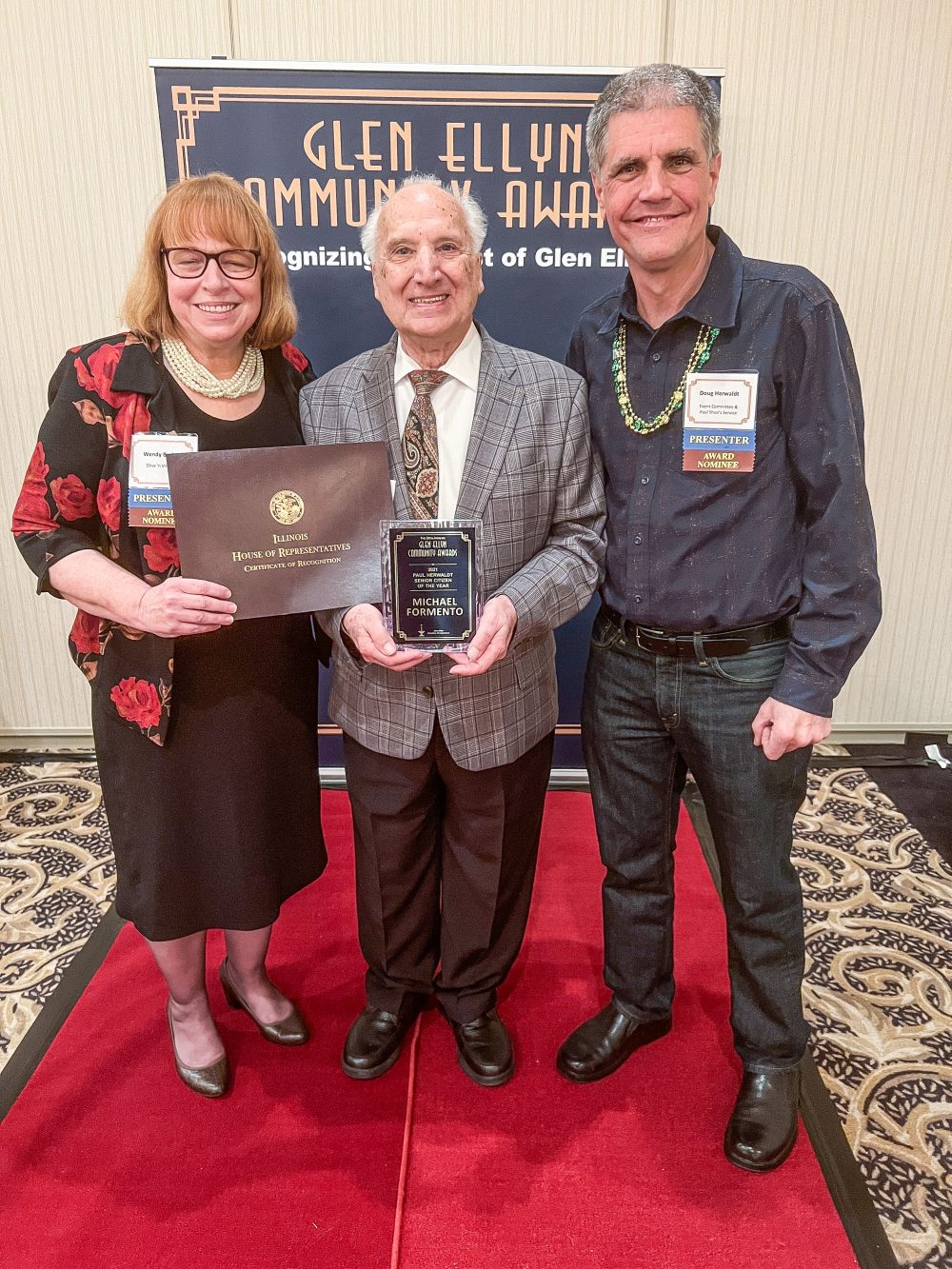 Pastor Wendy Boden Southminster Presbyterian Church, Michael Formento Senior Citizen of the Year, Doug Herwaldt, Paul Shoe's Service
Paul Herwaldt Senior Citizen of the Year
Michael Formento
A long-time village servant that has continued to volunteer in important ways long beyond retirement. Mike has served the Village for many years, much of that time as a volunteer. He continues to serve his church on the Worship and Men's Ministry committees; Director of Ushers, Knights of Columbus, youth of Glen Ellyn through scholarships, and veterans through heading the American Legion. He chairs the Annual Prayer Breakfast, uniting residents from all faiths. He continues to be a citizen who leads by example of how to serve your community every day.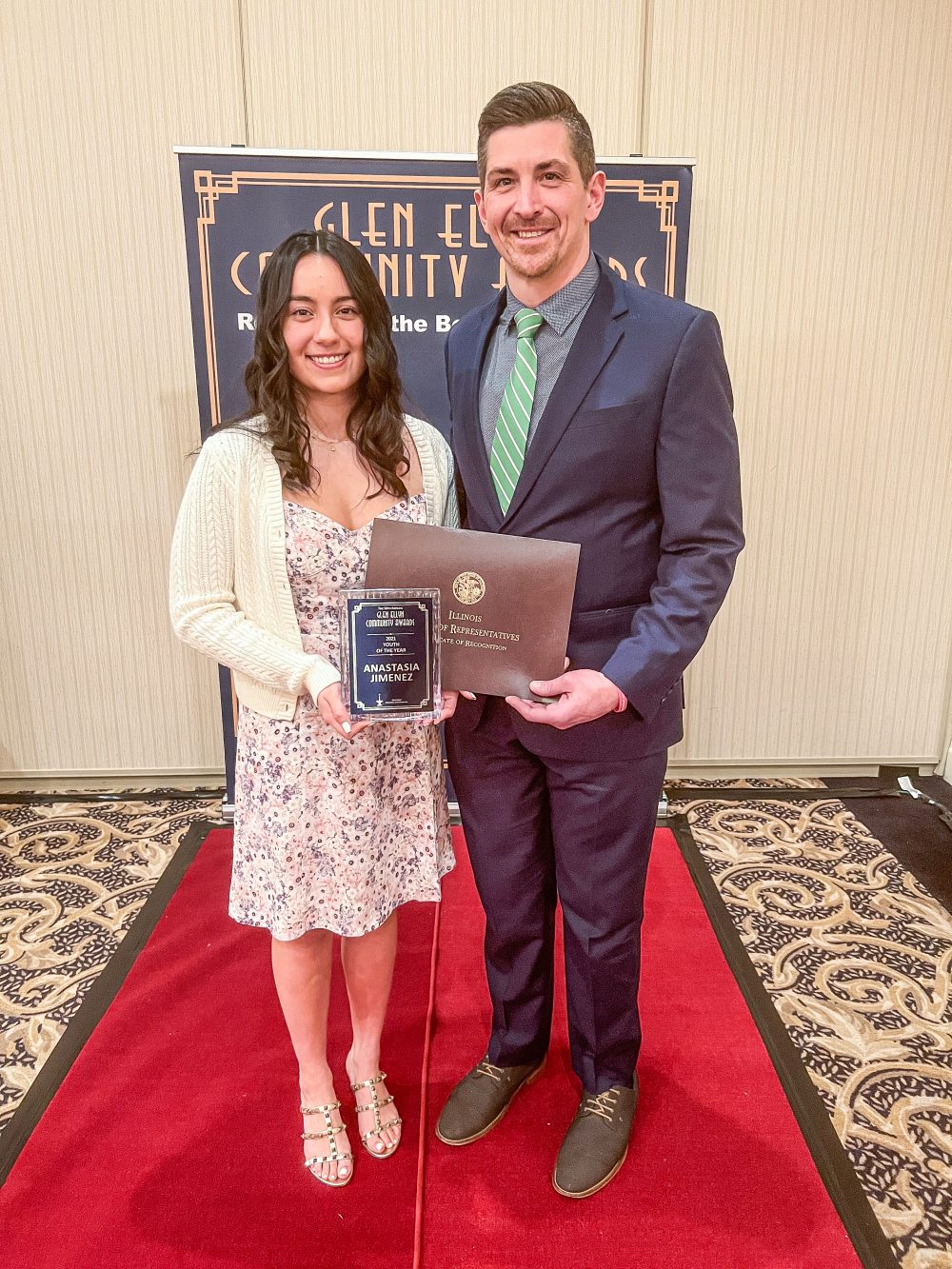 Anastasia Jimenez Youth of the Year, Chris Mitchell Assistant Principal for Student Services at Glenbard West High School
Youth of the Year
Anastasia Jimenez
Ms. Ochoa shares "I have seen first-hand how Anastasia has grown as a student and has developed her leadership skills. She is extremely kind, open-minded, and has a huge heart. She has taken a very rigorous course load of classes and been able to achieve a 5.3/5.0 GPA. This is no easy feat at all but she has been successful because of her dedication, organization, and drive for her future. Through the many courses that she has taken, she has realized that she is interested in pursuing a degree in either biology or biomedical engineering. Not only is she challenging herself academically, but she is also very involved in her extra-extra-curricular activities. She manages to balance all of that and also help her family financially and with numerous home responsibilities. She is driven by being first generation and has a focused mindset on being a successful college student in order to better the lives of her family members.
Mr. Moran echoes this praise by saying "Glenbard West, is rich in tradition and excellence and we have a wall dedicated to our Distinguished Alumni. We boast CEO's, Academy Award winners, Genius grant recipients, and the best pinball designer ever. Anastasia Jimenez's face and biography will one day adorn the wall here at Glenbard West. In my 16 years of experience, she represents the
best and brightest of our community." Mr. Moran continues "When Anastasia was in junior high she began her own independent business. On her own she taught herself to sew, market her products by filming the process and promoting via social media, ship worldwide, communicate with customers, manage finances and ultimately created a successful business from the ground up. Every product she creates sells out in less than 5 minutes, she has 85,000 Instagram followers, and two of her Youtube videos have 1.5 million views. She has sold and shipped her items all over North America and to almost all European countries. No one told her to do this, no one mentored her, she developed this entire product line, sales, marketing, and logistics COMPLETELY INDEPENDENTLY."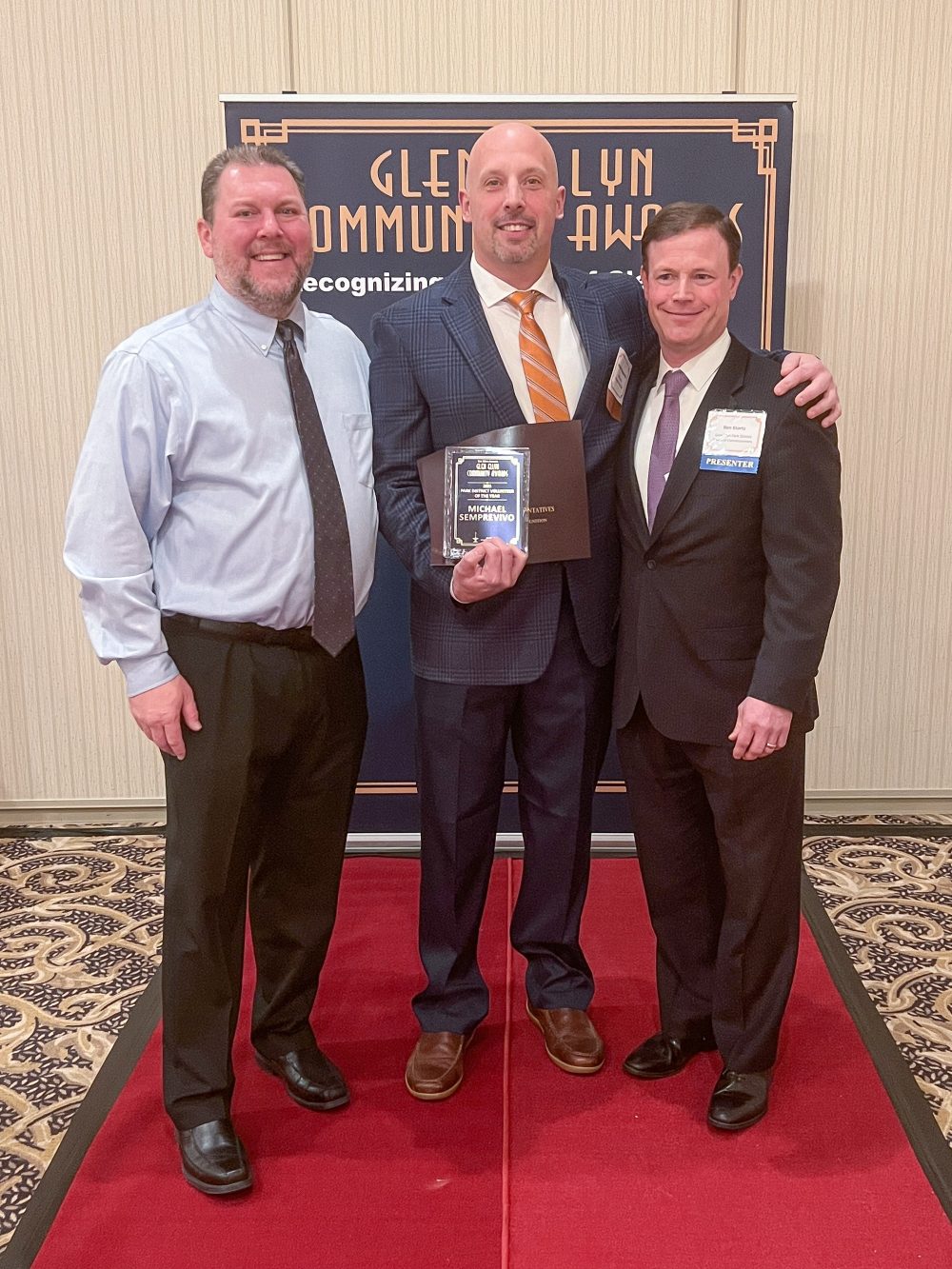 Clint Babicz Assistant Superintendent of Athletics, Michael Semprevivo Park District Volunteer of the Year, Ben Stortz, Board of Commissioners Glen Ellyn Park District
Park District Volunteer of the Year
Michael Semprevivo
A Glen Ellyn resident since he was 8 years old, Mike Semprevivo has been a fixture at the Ackerman Park softball fields. He can always be found with a rake, handing out equipment, or checking fields when he is not coaching his players. Long after his baseball playing days at Arizona Community College and University of New Mexico, Mike continues to share his passion and knowledge of the game through his multiple years of volunteerism at the Glen Ellyn Park District. He currently serves as Program Co-Chair for the Glen Ellyn Girls Softball Association, coaches a Phillies travel softball team, runs clinics and lessons for the baseball and softball programs, and works with parks staff to prep and maintain fields. His passion and dedication to the girls softball program and the Glen Ellyn Park District truly makes him an all-star.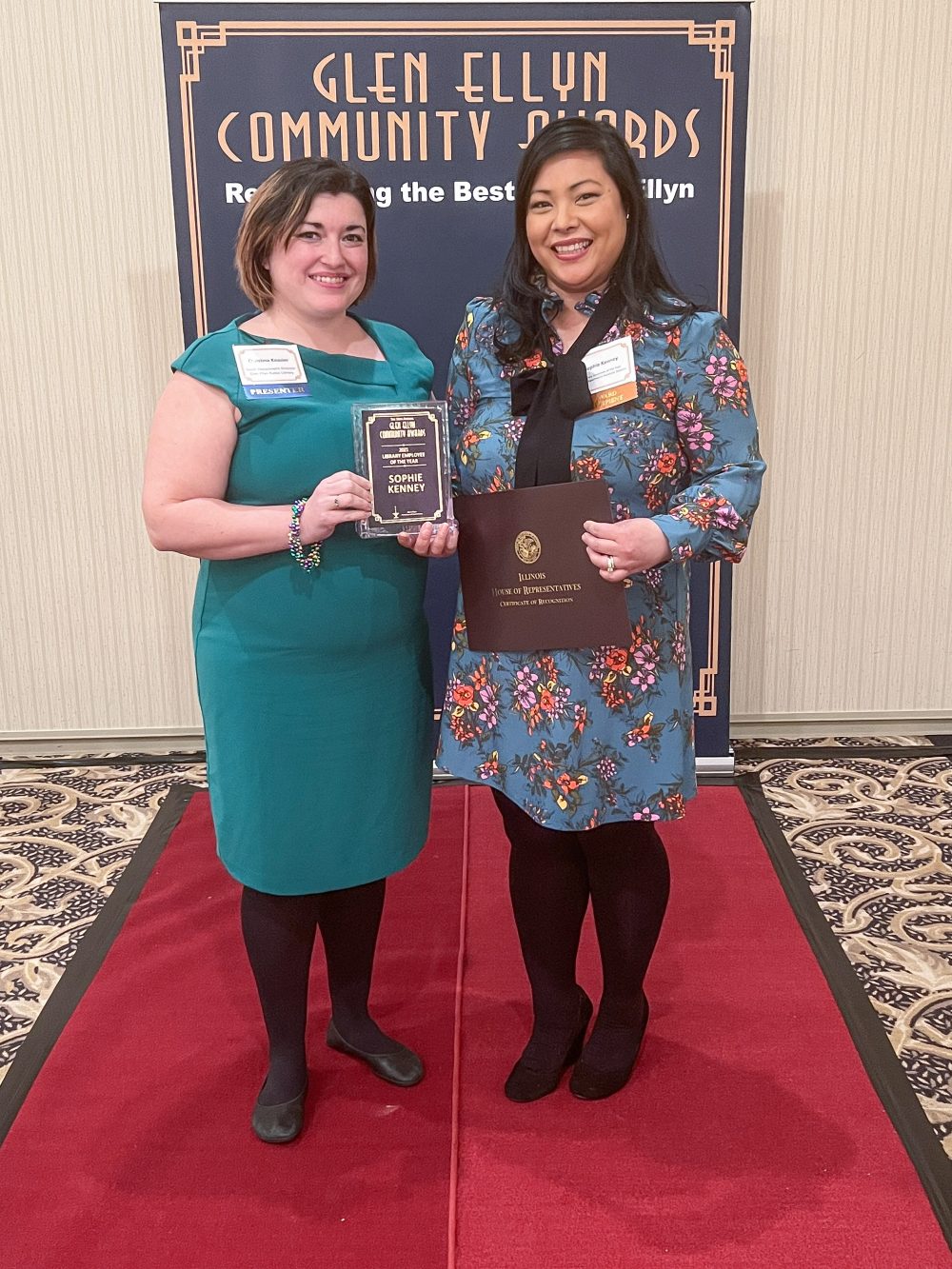 Christina Keasler Youth Department Director Glen Ellyn Public Library, Sophie Kenney Library Employee of the Year
Library Employee of the Year
Sophie Kenney, Youth Department Assistant Director
Sophie Kenney has been working in libraries for over 10 years and is thrilled to be a part of the Glen Ellyn Public Library team. In her role as Assistant Director for the Youth Department she loves being able to inspire members of all ages with the wonder of technology, build important early literacy skills through storytime and contribute to the essential work of keeping our library a welcoming and engaging space for the entire community. As a Glen Ellyn resident, Sophie is proud to also represent the library as liaison to the Community Relations Commission and continue efforts to remove barriers and increase access to the wonderful resources our village has to offer.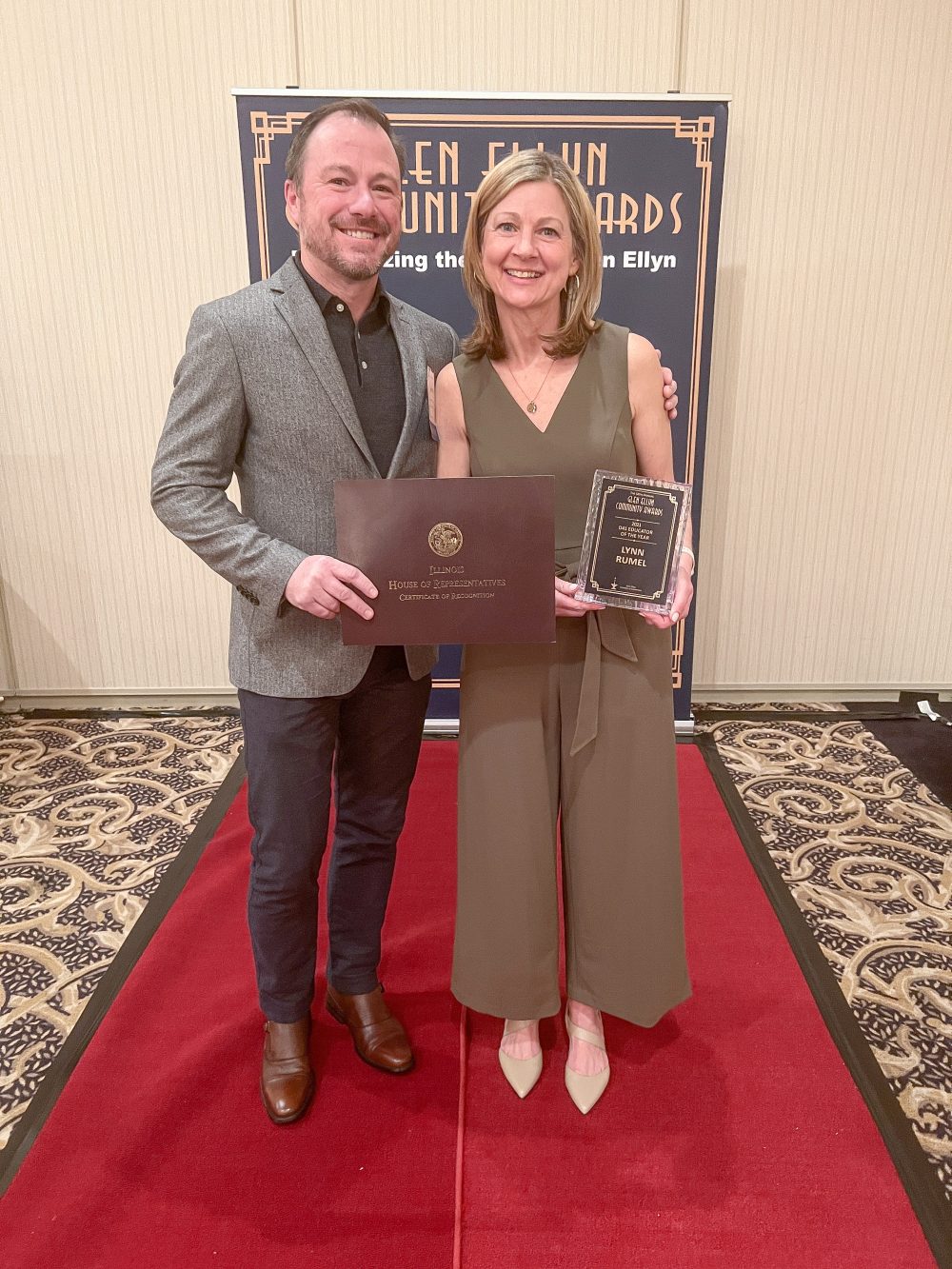 Jeff Burke, Principal of Benjamin Franklin Elementary School, Lynn Rumel D41 Educator of the Year
District 41 Educator of the Year
Lynn Rumel, Second Grade Teacher
Mrs. Rumel has worked in District 41 since 1990, almost her entire teaching career. Prior to coming to District 41 she taught at Gavin Central Elementary School for two years. She earned her bachelor's degree from Eastern Illinois University and her master's degree from National Louis University.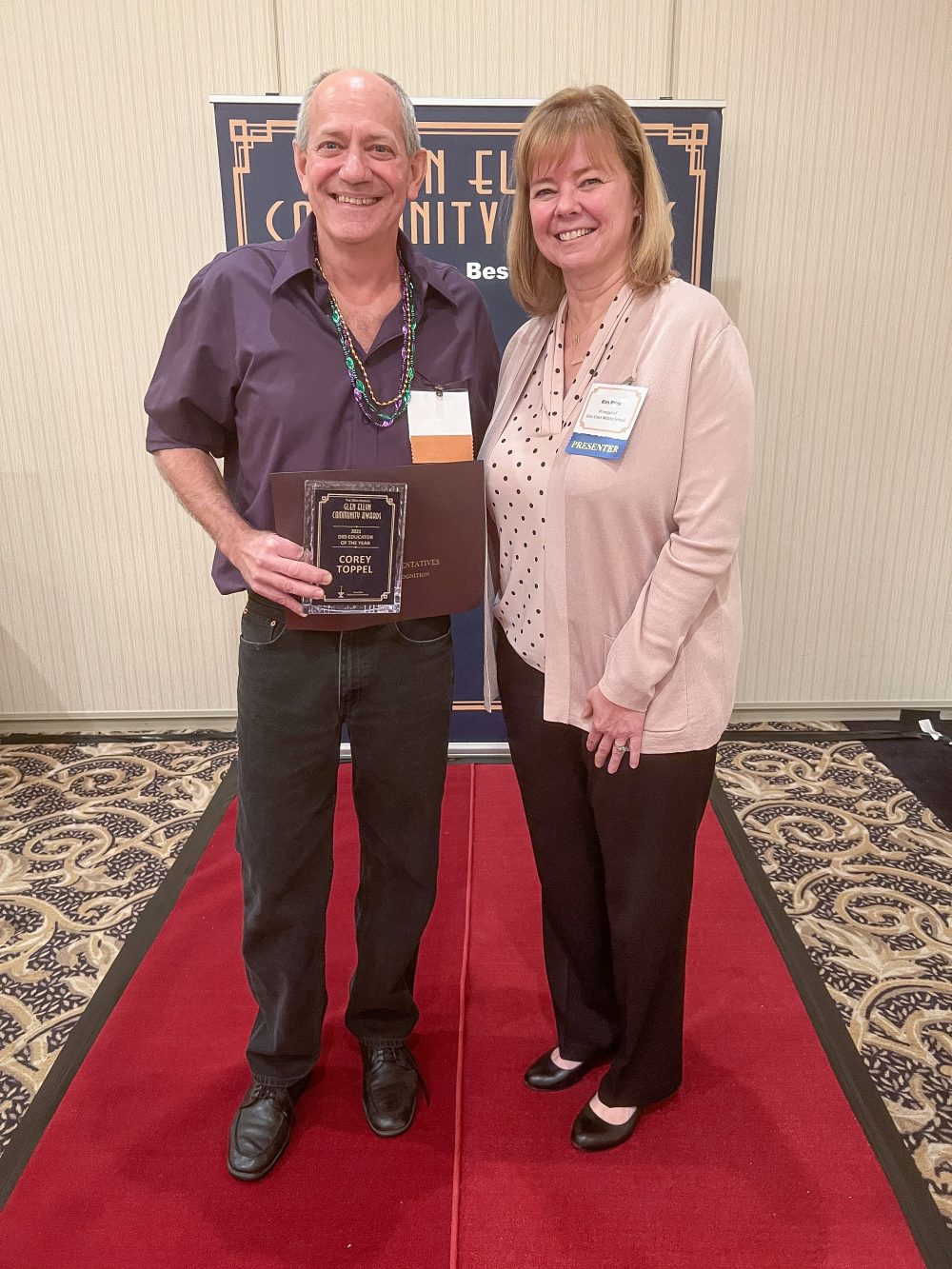 Corey Toppel D89 Educator of the Year, Kim Price Principal of Glen Crest Middle School
District 89 Educator of the Year
Corey Toppel, Physical Education Teacher
Glen Crest Middle School physical education teacher Corey Toppel is known for his willingness to mentor new teachers and his commitment to leading physical education classes where every child can have success.
Toppel has taught physical education at Glen Crest since 1990. He has also coached boys volleyball, girls volleyball, track and field, basketball, and intramurals.
He creates unique opportunities for students: for the golf unit, Toppel brings them to a nearby course. He runs an intramural bowling team so students can use an alley. Fourteen years ago, he started a 3.5-kilometer Pumpkin Run that has raised thousands of dollars for athletic equipment.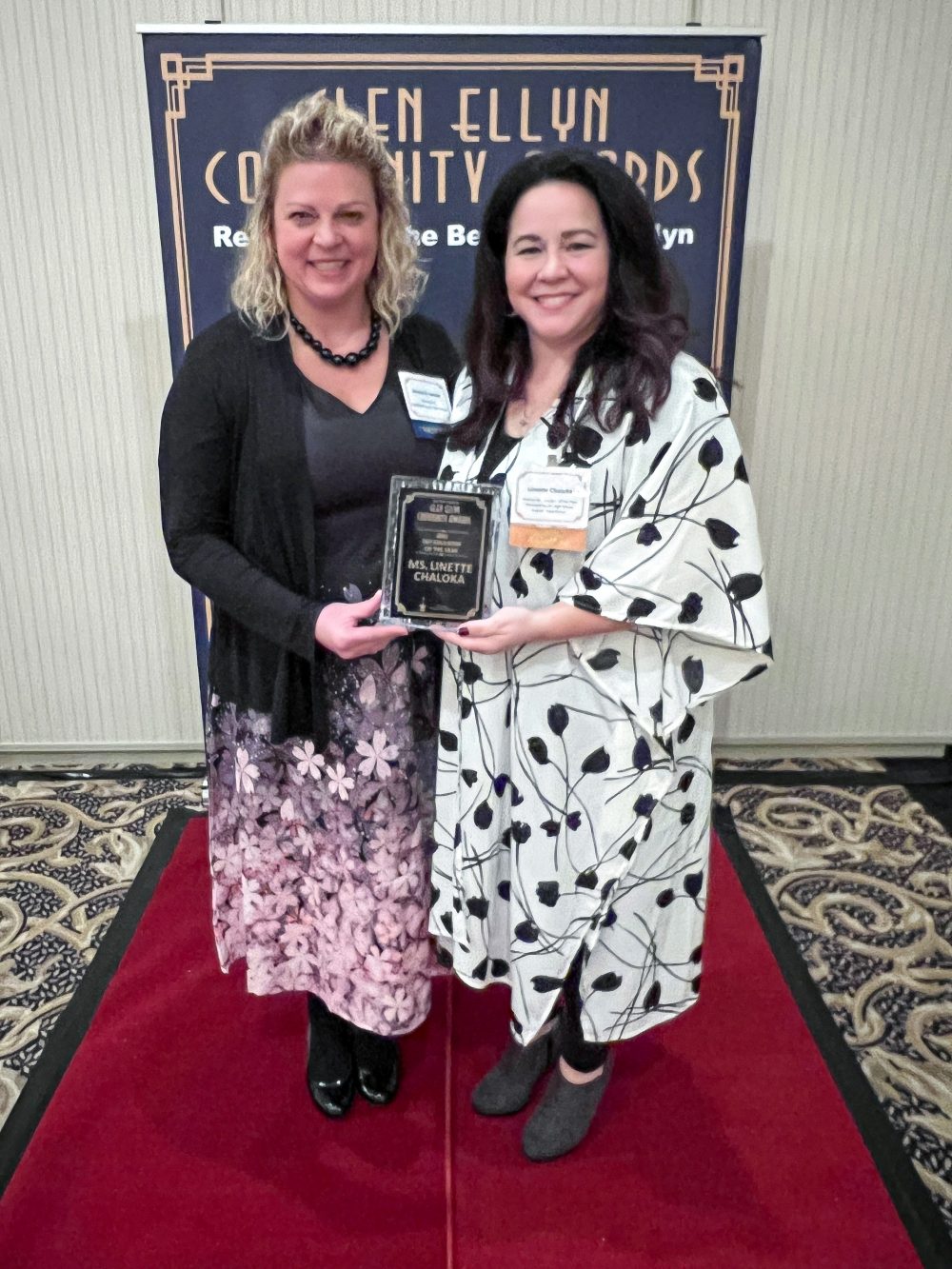 Jessica C. Santee, Principal of Glenbard South High School, Linette Chaloka D87 Educator of the Year
District 87 Educator of the Year
Linette Chaloka, English Department Chair
Linette Chaloka has been teaching for 22 years, serving the last eight years as the English department chair at Glenbard South High School. She earned her bachelor's degree in English from Northern Illinois University, has a master's degree in education from Benedictine University, is a National Board Certified teacher, and is currently pursuing her doctoral degree in educational leadership with a superintendency licensure at the University of St. Francis. In addition to her teaching responsibilities, Linette also sponsors the Glenbard South Student Council and is the Assistant Activities Director. When she is not teaching or taking a class, she spends her time with her husband, Steven, and their three children, Charlotte, Christina and Steven.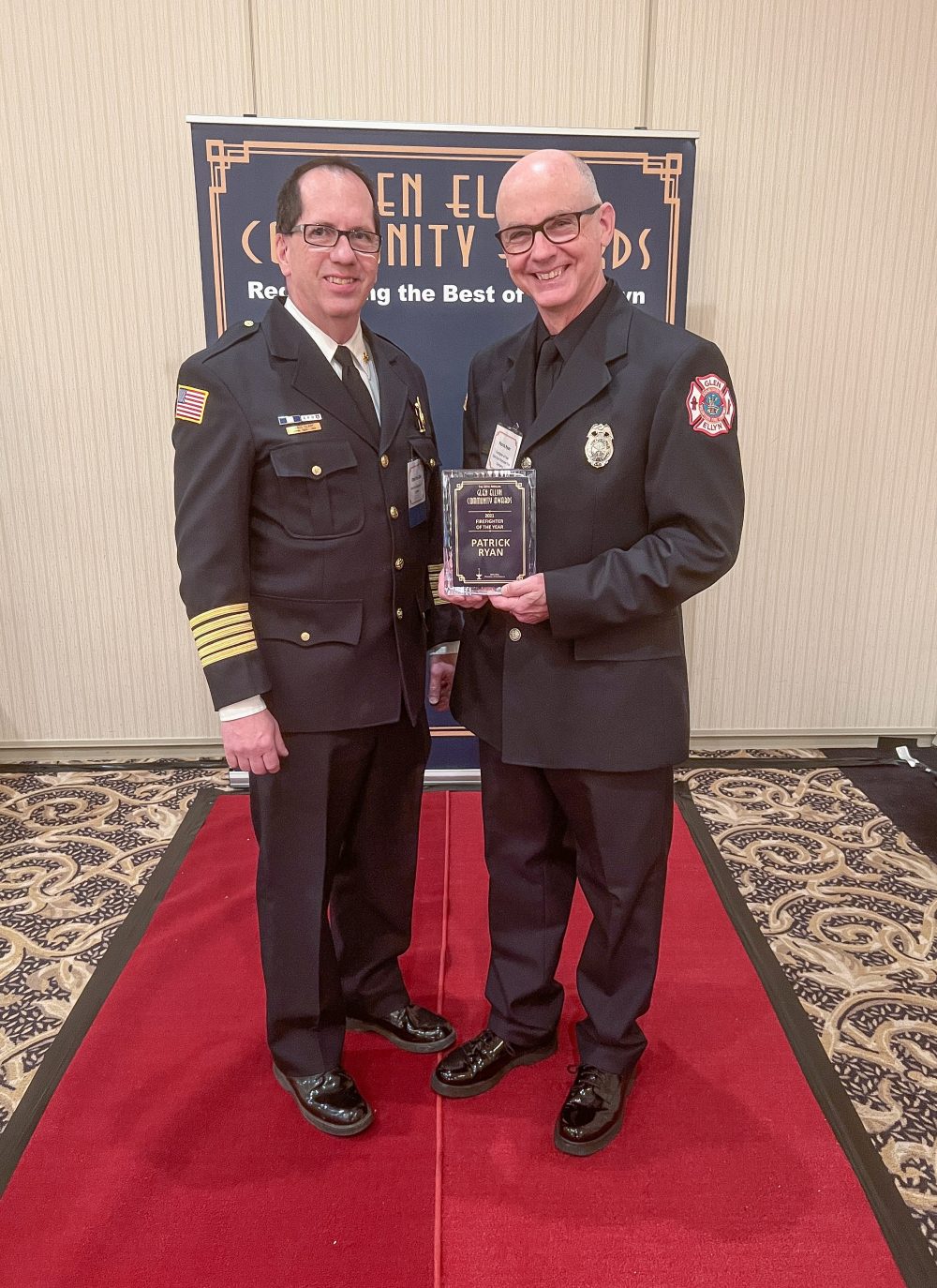 Fire Chief Chris Clark, Firefighter Patrick Ryan
Firefighter of the Year
Firefighter Patrick Ryan
Patrick Ryan has been a lot of things in his life—newspaper photographer, navy reserve member, and currently is Senior Assistant to the Attorney General. Two years ago at the age of 52, he decided to add firefighter to his resume. He joined the Glen Ellyn Volunteer Fire Company and says it's one of the best decisions of his entire life, learning a lot about himself along the way as he trained to become a firefighter.
"You learn a lot about yourself doing this and what you are capable of," he says. "I got myself through it. I feel physically and mentally stronger for being able to do this."
Patrick also loves that every call is different and gives him the chance to put his training to use in new ways—it adds interest and excitement to the volunteer role. He'll always remember the experience of his first structure fire. On a quiet Sunday evening watching sports at home, Patrick's pager went off alerting him of a potential major structure fire. He heard the ambulances and saw the smoke as he approached the fire, adrenaline rushing.
"I was hyper aware of everything that was happening. Everything seemed so heightened, but my training kicked in," says Patrick. "It was the first time putting the skills I've learned to use. Everyone was doing their job. It was terrible that the building was on fire, but it was an unbelievable experience. Since it was the first time, it will stick in my mind."
But the best part of being a volunteer firefighter, for Patrick, is helping people in their time of need. "On their worst day, we are there to help them—whether it's medical, an accident, or a fire. Someone is in distress, and at 3 in the morning, they call for help and we show up. We work as a team to size up the issue and figure it out. It's immensely satisfying and meaningful."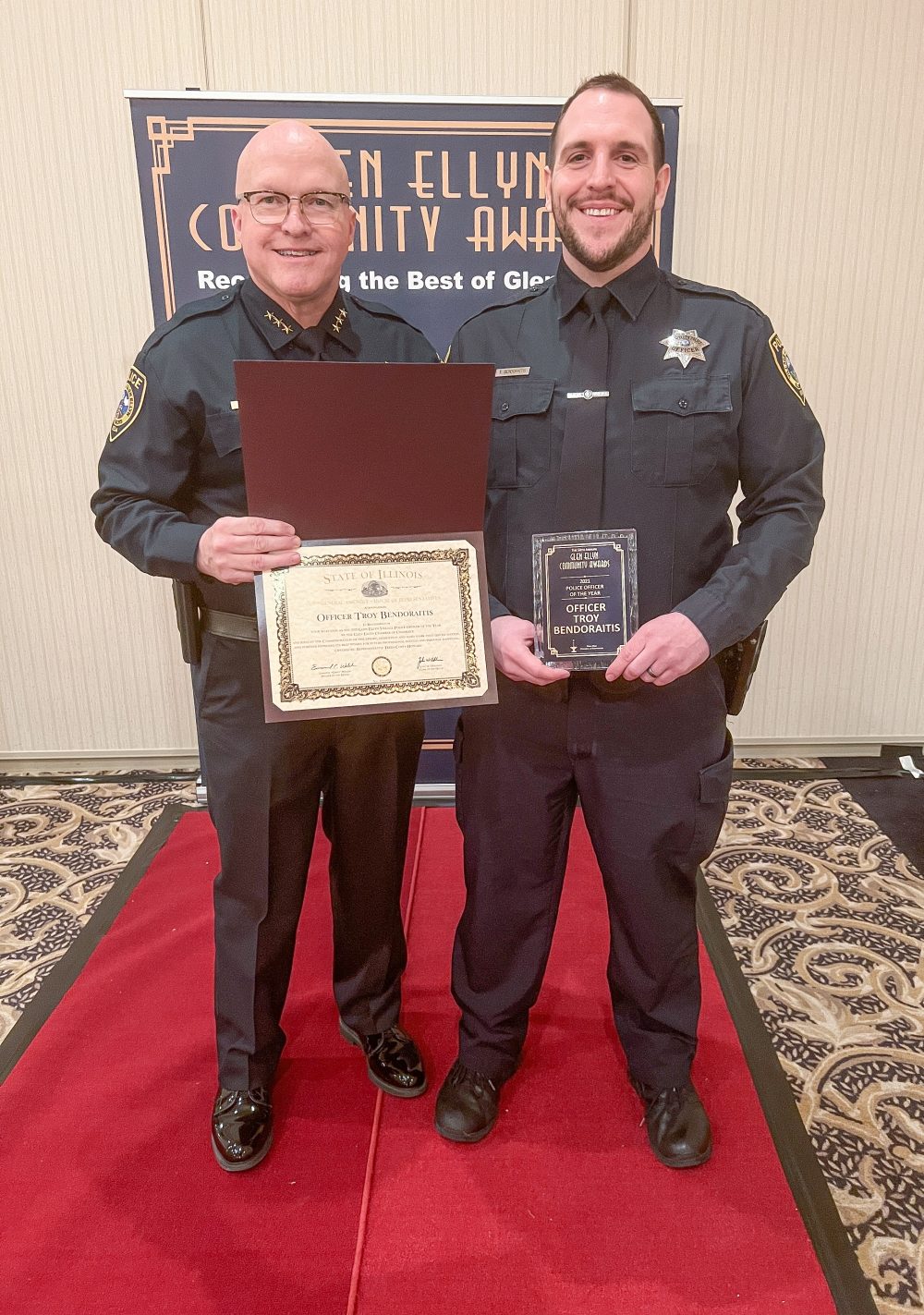 Police Phil Norton Chief of Police, Officer Troy Bendoraitis
Police Officer of the Year
Officer Troy Bendoraitis
When asked about what being an officer means to him, Officer Troy Bendoraitis will answer that "it's the best job in the world." Troy's positive outlook regarding his position and his career is only one of the reasons his colleagues have selected him to be Glen Ellyn's Police Officer of the Year.
This second-generation police officer, whose father was also in law enforcement, has been with the Glen Ellyn Police since 2016 after studying law enforcement and psychology at Western Illinois University.
Since joining the Department, Troy has been involved with the Village's crisis intervention team, which deals with mental health issues and he also works with new police recruits as a field training officer.
He credits his colleagues with his success, saying that he is lucky to be amongst such a strong team atmosphere, and loves being a police officer because the job offers new experiences and something different every day.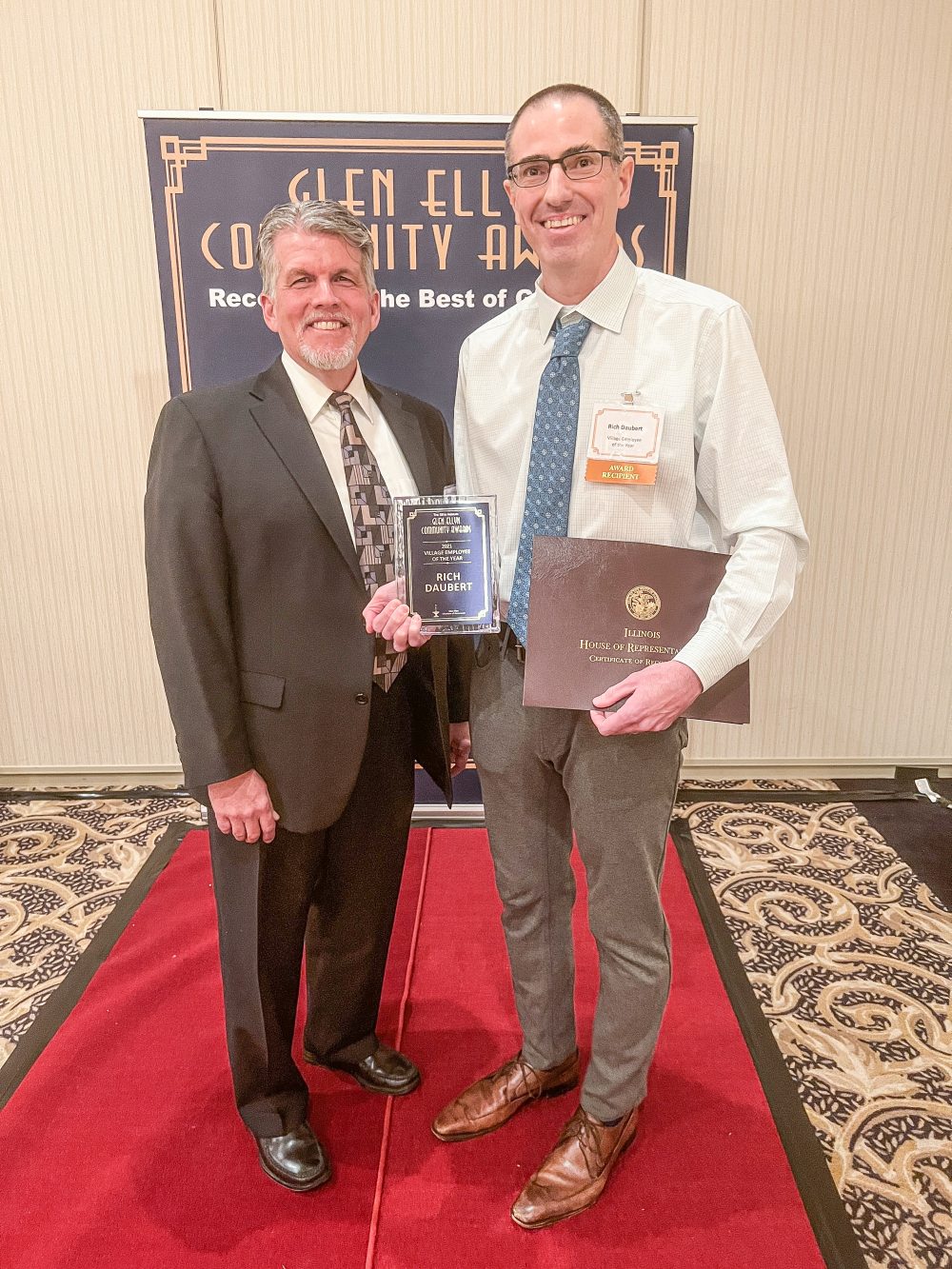 Dave Buckley Public Works Director, Rich Daubert Village Employee of the Year
Village Employee of the Year
Rich Daubert, Village Engineer
Ten years ago, when Rich Daubert was running through Glen Ellyn along the Prairie Path training for a marathon, he may not have envisioned that one day he would be shaping the infrastructure and development of the Village. But for the past seven years, that is exactly what he's been doing; and now serves as Glen Ellyn's Professional Engineer.
Since joining the Village, Rich has overseen Community-wide projects such as resolving drainage issues within northwest Glen Ellyn, developing the Taylor Avenue Underpass, conducting numerous street reconstruction and resurfacing projects, installing new sidewalks throughout the Village, redeveloping Roosevelt Road business properties, building the Civic Center Parking Garage, securing funding for the Metra Station Grant, and being a key leader in the Central Business District Downtown Streetscape Redevelopment Project, which kicks off later this month.
Rich credits his success with the Village largely thanks the collaboration between his colleagues and says he works with a "great team of Village employees that have been able to accomplish some pretty unique things."
He started in the trenches of municipal engineering and public works as an engineering intern, doing everything from material testing of concrete and asphalt, to surveying, CAD drafting, traffic counting, and developing bid and contract documents. He has worn every hat from intern, to design engineer, resident engineer, project manager, senior civil engineer to now professional engineer.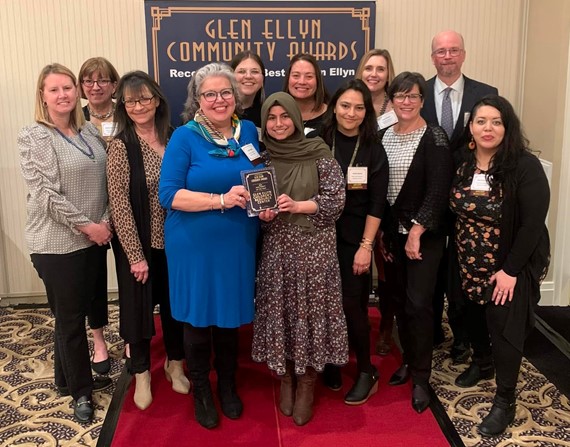 Glen Ellyn Children's Resource Center
Non-Profit of the Year
Glen Ellyn Children's Resource Center
GECRC mission is to help children from low-income families acquire the necessary skills in academics and social interaction to move successfully through grades K-12 and into adulthood. We do this by providing after-school and summer programs which emphasize literacy and community involvement, using the talents of teachers, volunteer tutors, GECRC Staff and a variety of local organizations.
A few highlights from the received nominations:
This organization has been an incredible partner with Glen Ellyn schools to support children and families. During this difficult academic time,
GECRC has not only found ways to assist students academically and emotionally when learning was remote but also challenged itself to grow through expanding to D89 in order to help more students succeed in school.
Celebrating 20 years of supporting students in Glen Ellyn.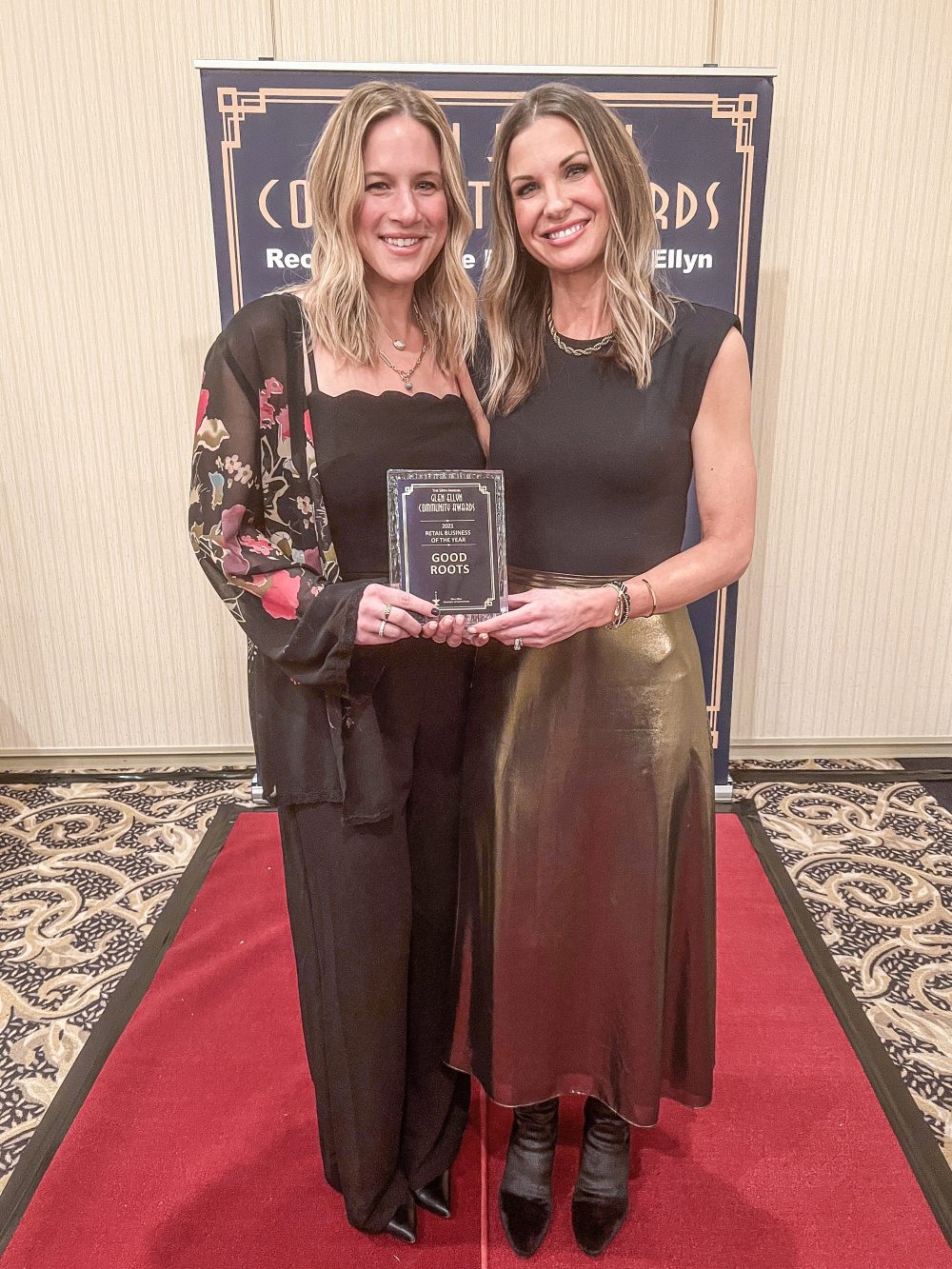 Lindsay Palm and Ashley Aikens, Owners
Retail Business of the Year
Good Roots
At Good Roots their mission is to give every person that walks through their door an unparalleled plant shopping experience. Lindsay and Ashley partnership will give you a consultative approach to find you the perfect houseplants for your space and your lifestyle. Good Roots is a place you can feel welcomed, encouraged, and supported whether you are just getting started with plants, or have a distinguished green thumb.
A few highlights from the received nominations:
Where to begin? This store is an absolute dream. I never thought I'd be a plant person…then I went to Good Roots. Ashley and Lindsay are amazing!
The owners of Good Roots exemplifies what it means to give back, community, and family. The energy is warm, their business is welcoming to all and brings a nice flair to the community.
A unique woman owned business who makes bringing live plants into our homes both attainable and fun. Wonderful source of knowledge and style - a gem of the western suburbs!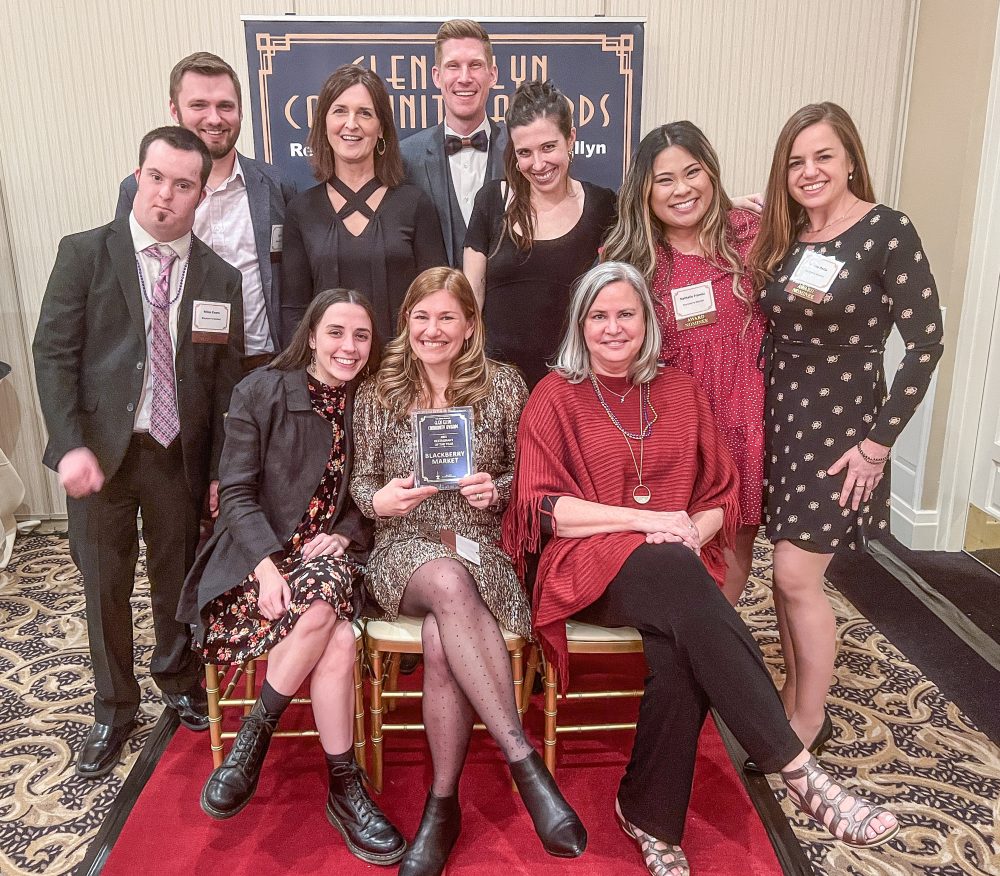 Restaurant of the Year
Blackberry Market
Blackberry Market is a fast-casual cafe and bakery in downtown Glen Ellyn and La Grange, IL offering up daily handcrafted meals, dinners to-go, premium coffee drinks, memorable baked goods, and a robust catering menu. We believe in food that is non-processed, handmade, and fresh. We recognize that food is not only a means to nourishment, but an excuse to pause, reflect, and connect with those we love. Blackberry was designed with this in mind – an active space for meaningful conversations alongside healthful and thoughtful food.
A few highlights from the received nominations:
They have amazing food, friendly staff, support the community, and follow protocol to help keep us healthy.
Love all of their bakery items! That cinnamon roll is to die for.
They treat the community, their employees and the customers with care.
Service Industry Business of the Year
RISE Fitness
RISE is a fitness and cycle studio located in the heart of downtown Glen Ellyn that celebrates inspiration, energy and good health. At RISE, we aim to provide a fun, welcoming and judgment-free group fitness experience that will tone your core muscles, burn calories and increase your cardiovascular strength– all while connecting you with others in an encouraging community environment.
A few highlights from the received nominations:
Rise has gone above and beyond the past 2 years to make their studio a safe place to visit to build a stronger body both physically and mentally. The instructors are a bright light even in the middle of a pandemic.
They are all about building a strong community and encourage to partner locally. It truly is a wonderful community of people to help you be your best self.
My home away from home, this business continues to amaze me with their ability to make the community feel better and walk away feeling ''sweaty & happy''.