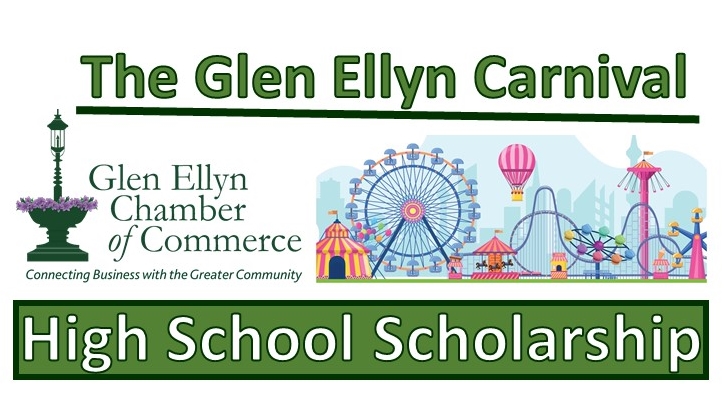 Glen Ellyn Carnival Creates High School Scholarships
Plus Community Grants to Local Non-Profit Organizations
Tilt-a-whirls, cotton candy and rock n' roll were just a few ways the Glen Ellyn Chamber of Commerce created a new scholarship program and funds for local non-profit community grants.
The Glen Ellyn Chamber is proud to announce a new scholarship dedicated to High School Seniors at Glenbard West and Glenbard South from proceeds of the Glen Ellyn Carnival in the amount of $10,000.  2021 was the first year the Chamber hosted the carnival, formerly known as the Village Fair.  The Village Fair Committee, was a dedicated group of volunteers, who successfully donated proceeds throughout the village.
All High School Seniors are encouraged to apply through their local high school scholarship program provided through the D87 Naviance software.  Blind applications (omitting name, address & gender) will be provided from the schools to two dedicated Chamber Scholarship Committees comprised of Glen Ellyn Chamber of Commerce Members to award $5,000 to student/s of each school.  Consideration of students' application will be on work ethic, volunteerism, and sense of community.
The Local Scholarship deadline for Glenbard West is Monday, January 24, 2022 at 3pm the deadline at Glenbard South is Friday, January 28, 2022 at 3pm.  Good luck to all!
To apply: Glenbard West or South High School Seniors are to contact their consular for scholarship application.
Questions? Email us your questions business.glenellynchamber.com/contact
Glen Ellyn 2022 Community Grant Presentation
The 2022 Glen Ellyn Carnival created high school scholarships and community grants to local non-profit organization. The high school scholarships were awarded in May to deserving young recipients. At our Annual Chamber Steak Fry, September 13, the Chamber recognize the non-profit organizations who volunteered at our First Thursday Summer Concerts. The following organizations are: