When:
October 29, 2022
9:45am - 1:00pm
Where:
Downtown Glen Ellyn
Details:
9:30am Gathering for Parade (Glenwood/Crescent Parking Lot)
9:45am Parade
10:00am Trick-or-Treating, Games, Crafts & More
Event Description:
A Spooktacular Event where children with their parents participate in the parade, Trick-or-Treating at participating local businesses, enjoy festival games & crafts. 
9:30am - Halloween Parade Staging
All are welcome!The parade participants & families meet at the Glenwood/Crescent Parking Lot in the staging area.
9:45am - Halloween Parade Steps Off
Parade participants march in the parade following the Glenbard West Drumline. Community members line the street to cheer them on! See Parade Route.
10am - 1pm: Trick-or-Treat, Craft & Games
Trick-or-Treat at businesses throughout the downtown. View the decorated windows painted by the scouts.
Enjoy Halloween Games & Crafts on Main Street including a Haunted School Bus.
Scout Troop Window Painting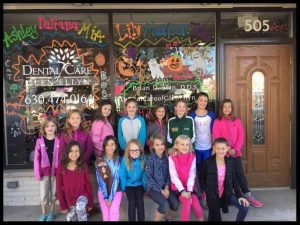 September 30 - Window Painting Sign Up Opens
October 8 - 15 - Window Painting
Window painting sign up will be online. Scouts will pick the storefront window they want to paint on this signup. One window per troop. It is on a first come first served basis. Scouts must contact storefronts to set up a time to paint.