When:
October 30, 2021
9:45am - 1:00pm
Where:
Downtown Glen Ellyn
Details:
9:30am Gathering for Parade (Glenwood/Crescent Parking Lot)
9:45am Parade
10:00am Trick-or-Treating, Games, Crafts & More
Event Description:
A Spooktacular Event where children with their parents participate in the parade, Trick-or-Treating at participating local businesses, enjoy festival games & crafts. 
Covid Guidelines:
Masks are recommended for all unvaccinated residents
9:30am - Halloween Parade Staging
All are welcome!The parade participants & families meet at the Glenwood/Crescent Parking Lot in the staging area.
9:45am - Halloween Parade Steps Off
Parade participants march in the parade following the Glenbard West Drumline. Community members line the street to cheer them on! See Parade Route.
10am - 1pm: Trick-or-Treat, Craft & Games
Trick-or-Treat at businesses throughout the downtown. View the decorated windows & scarecrows created by scouts, non-profits & businesses.
Enjoy Halloween Games & Crafts on Main Street including a Haunted School Bus and paint the halloween mural.
11am: Pet Costume Contest
Enter your pet in a costume contest at the Two Bostons booth and walk down the red carpet.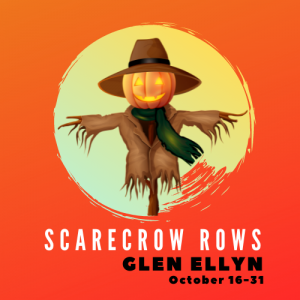 Scarecrow Rows Glen Ellyn
October 16 - 31
For more information visit